33RD ANNUAL INTERNATIONAL DREAM CONFERENCE – JUNE 2016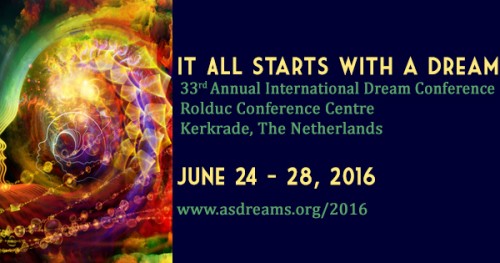 The Annual Conference • will feature world-renowned keynote speakers and over 160 presenters from around the globe, an opening reception, a Dream Art Exhibition and reception, the annual PSI Dreaming Contest, and the ever popular costume Dream Ball.
The Program •  is multi-disciplinary,  therefore falls into any of the following tracks: Research and Theory; Clinical Approaches; Dreamwork Practices; Arts and Humanities; Education; Religion, Spirituality and Philosophy; Extraordinary, PSI and Lucid Dreams; Dreams and Health; Culture and History; and Mental Imagery.
Venue • The location is the very beautiful 12th century Rolduc Abbey conference facility in Kerkrade in the southern part of the Netherlands. The site is situated on the Dutch-German border, close to several international airports, including those in Germany and Belgium, providing ease of international travel and sightseeing for those who wish to enjoy touring before and after the conference. We warmly invite you to attend.
Click here for detailed information, keynote speakers, program of events >>>